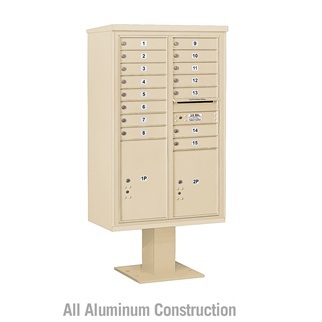 False
| Min Quantity | Max Quantity | Price |
| --- | --- | --- |
| 1 | 1 | $2,100.00 |
| 2 | 2 | $2,050.00 |
| 3 | 3 | $0.00 |
Local USPS Approval Required Pedestal Mount 4C Horizontal Mailbox #SY-3714D-15PED
Postal certified wall mounted 4C horizontal mailboxes meet USPS-STD-4C specifications, however mounting 4C mail receptacles on a pedestal for postal delivery requires a local postal official exception. A compatible pedestal is included in pricing for 4C pedestal mailbox. USPS-STD-4C specification demands a one parcel locker for every ten tenant compartment proportion. 4C modules are constructed of aluminum and stainless steel hardware and are factory certified for indoor or outdoor use. Doors include a Compx heavy duty cam lock with a dust/rain guard and come furnished with 3 keys. Tenant mail compartment door is equivalent to two 3-1/4' high standard doors and is used for outgoing mail collection & as a master access door is marked "Outgoing Mail". Secure outgoing mail compartment door includes a 10-3/4" W x 3/4" H mail slot and weather sheltered hood. 4C horizontal mailboxes mounted on a stand are available in front entry only. This high security pedestal mailbox is available in six attractive powder coat colors.
Features & Specifications
Overall pedestal mailbox size: 32 1/4"W x 66 3/4"H x 19"D
Mail receptacle height includes 13" high stand
Centralized delivery receptacle has standard mailbox compartments of 13 ¼"W x 3 1/4"H
4C pedestal mailbox has two built in parcel lockers that are 17 1/4"H & 20 ¾"H respectively
Optional Features
Finish Option
(STANDARD) Finish for the 4C pedestal mailbox is offered in six different powder coat colors. The finish for the 4C pedestal mailbox is rated for indoor or outdoor use.
Door Id
(STANDARD) Custom placards are a commonly used door identification option for 4C pedestal mailboxes. Each self-adhesive metal placard measures 1.75"W x 1.5"H x .025"D and can be customized alpha-numerically to your requirements up to two characters.
(+$75.00) Custom engraved door identification for 4C pedestal mailboxes offers the customer a permanent clean door identification option. The engraved characters on your compartment doors will be silver with this door identification option because the unit is manufactured from aluminum.
(+$75.00) Custom black filled engraving adds a touch of class to your mail receptacle. Each 4C pedestal mailbox door is engraved with the characters you specify and then filled in with a black ink to further distinguish the door identification.
Access Option
(STANDARD) USPS access indicates that the 4C pedestal mailbox will be used for delivery of U.S. Mail by the mailman. Because the mail receptacle is going to be used for Postal Service delivery the outgoing mail door which doubles as the master control door and parcel locker doors will be prepared to accept the postal arrow lock that the USPS will install in the field upon your request. It is important to note that 4C pedestal mailboxes require local USPS approval to use for U.S. Mail delivery.
(NO EXTRA CHARGE) Private access indicates that the 4C pedestal mail receptacle will be used for a private application by the end users. In this case the Postal Service will not directly access the mailbox for delivery. A private access 4C pedestal mailbox will come equipped with a private lock on the master access door and on the parcel locker(s) if applicable.
Shop our complete selection of commercial Mailboxes now for USPS Approved and centralized delivery solutions.