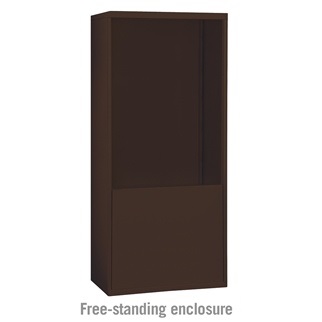 False
| Min Quantity | Max Quantity | Price |
| --- | --- | --- |
| 1 | 1 | $675.00 |
| 3 | 3 | $0.00 |
Cell Phone Lockers with Free-Standing Applications
Enclosure is constructed of heavy duty aluminum. Unit is designed to accommodate recessed mounted cell phone locker units. Enclosures feature durable powder coated finish available in 4 colors that match cell phone lockers. Recessed mounted cell phone fit easily into fully assembled enclosures with mounting hardware (included). Units provide a convenient way of installing cell phone lockers in locations where surface or recessed mounted application is not desired or available.
Features & Specifications
For 7 high recessed mounted cell phone cabinets
Unit Size: 37"W x 66 ½"H x 9 ¼"D
Cell phone lockers sold separately
Use in conjunction with cell phone lockers SY-19075-35, SY-19078-35, MX1917535, & MX1917835
Shop extra deep cell phone lockers today for high-quality storage solutions for fitness centers, office buildings, schools and other high security building environments.