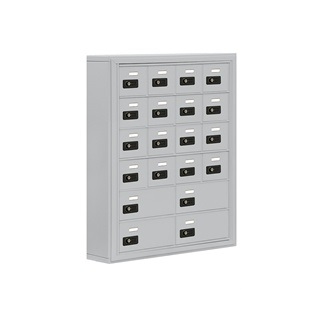 False
| Min Quantity | Max Quantity | Price |
| --- | --- | --- |
| 1 | 1 | $755.00 |
| 5 | 5 | $0.00 |
20 Unit Cell Phone Locker with Key #SY-19065-20
Cell Phone Locking Storage Cabinet Features & Specifications
USA Building Supplies offers a variety of cell phone locker configurations to meet your building's specific needs. This locker has 16 single high single wide & 4 single high double wide occupant doors. Available in surface mount (6 1/4" depth) or recess mount (5 ¾" depth). Protect a variety of personal items including cell phones, keys, tablet PCs, wallets, cosmetic, cameras, e-readers, important papers, glasses and other valuable items. Units are constructed of sturdy and durable aluminum in your choice of finish to fit a variety of building styles. Finishes included aluminum, bronze, gold, or sandstone powder coat.
Cell Phone Locker Features
Sixteen doors that are 6 1/2"W x 5 1/4"H and four doors that are 13"W x 5 ¼"H
Surface mount unit depth is 6 1/4", and recessed mount unit depth is 5 3/4"D
Unit Size: 30 1/2"W x 36 1/2"H
Recessed mount opening is 2 1/4" less than the unit's width, 2 1/4" less than the unit's height and equal to the unit's depth
16 single high single wide & 4 single high double wide occupant doors
Master keyed cell phone cabinets come with 3 keys per lock
Optional Features
Finish Option
(STANDARD) Finish choices are available in four colors and the finish provides durability for your cell phone locker. Color chips can be provided upon request.
Lock Type
(STANDARD) Master keyed locks are the most common lock type ordered by customers. Master keyed locks are keyed differently for the visitor users, however an owner or supervisor has a master key which will allow them entry into any of the guest door compartments
(+$175.00) Combination locks are resettable and are ideal for environments when visitors change from time to time. Combination locks also provide keyless entry into guest doors. A master key also allows entry for a owner or supervisor to any of the door compartments.
Mount Option
(STANDARD) Surface mounted cell phone lockers are typically attached to a wall and are usually ordered by clients who have an existing building
(NO EXTRA CHARGE) Recessed mounted cell phone cabinets are mounted into a wall opening and provide a finished appearance after installation. Recessed cell phone lockers are commonly ordered by customers who are planning or currently building a new building.
Door Id
(STANDARD) Cardholders are a type of door identification that allows the end user to identify each storage compartment door as they desire. Each door compartment comes with a 2"W x 5/8"H clear plastic cardholder and card for identifying purposes.
(+$90.00) Custom engraved doors are engraved by the factory as you direct them to do so. Custom engraved doors enhance the appearance of your cell phone locker. The engraved characters will appear on the doors as a silver color because the cell phone cabinet is constructed from aluminum.
(+$50.00) Custom engraved placards are another form of door id that is a self-adhesive placard that measures 2"W x 0.625"H x 0.25"D that can be engraved as you direct.
(+$90.00) Custom black filled engraving is a decorative door id option which the engraved characters on the doors will appear in black. Black filled engraving door id option allows you to choose how you would like each door engraved and enhances the overall appearance of your cell phone locker.
Master Key Option
(+10.00) Master key allows an owner or supervisor entry into any of the visitor door compartments. One master key is provided with each cell phone locker for master keyed or combination lock cell phone locker orders.
Shop our vast selection of cell phone cabinets and other building supply solutions for high quality products at the best value.