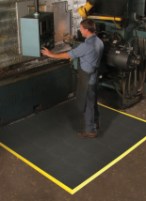 False
| Min Quantity | Max Quantity | Price |
| --- | --- | --- |
| 1 | 1 | $80.00 |
| 5 | 5 | $75.00 |
| 10 | 10 | $0.00 |
Features & Specifications
Resilient rubber anti-fatigue mat with a bubble-top surface structure and multi-nib backing to enhance the ergonomic support of the mat.

Solid top surface with an anti-slip texture which is easy to sweep and clean.

Modular design is compatible with other Cushion-Ease family of products for on-site custom configurations.

Applications for this mat should be in wet or dry environments where added ergonomic comfort and modular configuration may be required; workstations, assembly lines.

Easy to snap together mats for on-site configurations. 

Thickness - 3/4"

Cushion-Ease Ergo anti-fatigue mat is available in black color in a 3' x 3' size.