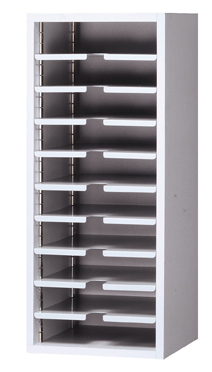 False
| Min Quantity | Max Quantity | Price |
| --- | --- | --- |
| 1 | 1 | $415.00 |
| 4 | 4 | $0.00 |
10 Pocket Wall Hung Mail Sorter #DM-SR3101WM
Features & Specifications
Wall hung mail sorter shell and vertical dividers with exception of steel sorter back to support wall hanging are built out of 3/4" 45-50 lb. substrate (particle board) with thermally fused finish and matching and complimentary 3/8" PVC on edges
Mail sorter back which is steel provides a stronger installation
Wall hung mail organizer back is painted in the same finish as the buyer sorter shelf finish choice
3/8" PVC trim edges will be in the color referenced in color and trim matching chart located in supporting documents section above
Overall sorter size: 31 1/2"H x 13 1/8"W x 12 1/4"D (letter size) or 16 1/4" (legal size)
Steel Mail Master mail sorter shelves have a 90 degree 1/2" lip label section with center cut out
Legal and letter size sorter modules include one shelf (adjustable in 1" increments) for every three inches providing 2 1/2" clearance between shelves
Custom or color matched interior or exterior mail sorter shell finishes (extended lead-time) are available for an additional charge
Wall mounted mail sorters include factory supplied steel brackets which must be field installed at wall studs
Interior mail sorter housing hardware which secures shelves in position referred to as standards or uprights are painted black
Legal or letter size office sorter cabinets have nine adjustable shelves with ten pocket openings
Depth can be ordered in letter size (12 1/4") or legal size (16 1/4") which allows a net opening for letter sort modules of 11 1/4"W x 11 1/4"D or legal sorters of 11 1/4"W x 15 1/4"
Offered with closed sorter back only
Allow 3 to 4 weeks for lead-time (lead-times can vary during peak times)
Optional Features
Finish for Sorter Shelves
(STANDARD) Finishes for wall mounted sorter shelves are an electrostatic powder coat paint. The paint is solvent free and environmentally sound. All of the finishes are prices equally and buyers can request color chips at no cost.
Laminate Finish for Sorter Shell
(STANDARD) The interior and exterior of the Mail Master mail sorter shell (except for steel sorter back) is finished in a high quality laminate which provides great durability and appearance benefits. Custom color matching is offered upon request however it often results in an additional charge and an increased lead-time. Please take note that wall mounted mail organizers have a steel shell back and are finished the same as the mail sorter's shelves.
Label Holder Option
(+$10.00) Label holders allow the department manager to identify each pocket opening. If this option is ordered you will be provided the amount of clear plastic label holders with double sided tape and cardboard inserts for a custom marking of each pocket opening.
Mail Sorter Overall Depth
(STANDARD) 12 1/4" (Letter size) mail sorter depth can store materials that are 8 ½"W x 11" and typically is adequate storage room for most client end uses.
(+$15.00) 16 1/4" (Legal size) sorter depth is for buyers who require additional storage space for literature, documents, or other types of materials.