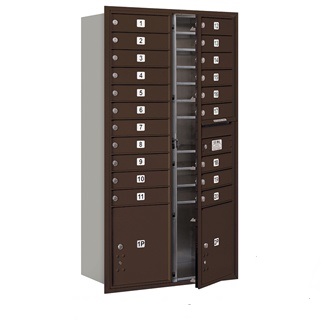 False
| Min Quantity | Max Quantity | Price |
| --- | --- | --- |
| 1 | 1 | $1,600.00 |
| 2 | 2 | $0.00 |
USPS Approved 4C Horizontal Mailbox #SY-3716D-20
4C horizontal mailboxes are USPS Endorsed and meet USPS-STD-4C regulations. 4C mailboxes are required for wall installation mailboxes for new construction and major renovations. USPS-STD-4C regulation states that one parcel locker for every ten resident compartment ratio is required. 4C mailboxes are manufactured from heavy duty aluminum and stainless steel hardware and are warranted for indoor or outdoor environments. Doors include a heavy duty cam lock with a dust/rain guard and 3 keys. The" Outgoing Mail" compartment is equal to two 3-1/4' high stock doors and is used for outgoing mail collection & as a master entry door. The outgoing mail compartment includes a 10-3/4" W x 3/4" H mail slot and a climate protection hood. 4C horizontal mailboxes include a manufacturer installed 3/4" W x 1/4" D integral trim. All 4C modules are available in four powder coat finishes.
Features & Specifications
Overall module size: 31 1/8""W x 56 3/4"H x 17"D
Optional surface mount collar is offered for an up charge
Optional freestanding enclosure is offered for an extra cost
Unit has 20 stock mail compartments which are 13 ¼"W x 3 ¼"H
Unit weight - 175 lbs.
Optional Features
Finish Option
(STANDARD) Finish for 4C horizontal mailboxes is offered in four different powder coat colors. The finish for the 4C pedestal mailbox is rated for indoor or outdoor use. Color chips are available upon request.
Door Id Option
(STANDARD) Custom placards are a commonly used door identification option for 4C horizontal mailboxes. Each self-adhesive metal placard measures 1.75"W x 1.5"H x .025"D and can be customized alpha-numerically to your requirements up to two characters.
(+$100.00) Custom engraved door identification for 4C horizontal mailboxes offers the customer a permanent clean door identification option. The engraved characters on your compartment doors will be silver with this door identification option because the unit is manufactured from aluminum.
(+$100.00) Custom black filled engraving adds a touch of class to your mailbox. Each 4C horizontal mailbox door is engraved with the characters you specify and then filled in with a black ink to enhance the door identification.
Access Option
(STANDARD) USPS access indicates that the 4C horizontal mailbox will be used for delivery of U.S. Mail by the mailman. Because the mail receptacle is going to be used for Postal Service delivery the outgoing mail door which doubles as the master control door and parcel locker doors will be prepared to accept the postal arrow lock that the USPS will install in the field upon your request.
(+$90.00) Private access indicates that the 4C horizontal mail receptacle will be used for a private application by the end users. In this case the Postal Service will not directly access the mailbox for delivery. A private access 4C horizontal mailbox will come equipped with a private lock on the master access door and on the parcel locker(s) if applicable.
Load Type Option
(STANDARD) Front loading 4C horizontal mailboxes refers to the side of the commercial mailbox which master entry to all the compartments at one time is gained by the Postal Service if for USPS access or a private individual if for private access. The master door for the front loading 4C mailbox is gained through the outgoing mail compartment.
(NO EXTRA CHARGE) Rear loading 4C horizontal mailboxes refers to the side of the centralized mailbox which master access to all the compartments at one time is gained by the USPS if for USPS access or a private individual if for private access. A rear loading 4C horizontal mailbox comes with a latching rear doors(s) on continuous hinge(s) that is not locking. Therefore, a secure room for mail distribution is required if for U.S. Mail delivery and suggested if for private distribution.
Shop our complete selection of commercial Mailboxes now for USPS Approved and centralized delivery solutions.