Cell Phone Cabinets and Laptop Locker Features
Cell Phone Cabinets and Laptop Locker Features
How to Determine which Mini Storage Locker Is Best For You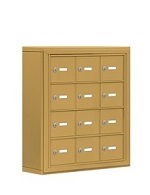 Cell phone lockers are incredibly popular. They are heavily used and much appreciated in all kinds of surroundings. With so many options available, you'll want to take several factors into consideration to narrow your range of choices. Once you know your requirements and all of the options available, you can select the most cost effective cell phone locker to meet your needs. Your first step will be to answer questions about how and where the cell phone cabinet or electronic storage locker will be used. Once you have these answers, it will be much easier to confidently select the cell phone box locker you need.
Where will it go?
Where are you going to need your cell phone locker? There is a huge difference between cell phone lockers for employees, cell phone lockers for schools, cell phone lockers for classrooms, etc. So a quick review of where your cell phone locker will be installed is essential in determining the right product for your facility.
Where would they be most appreciated and used? Be sure your mobile phone security locker is easy to see and use. Convenience is a big factor. Also, placing the cell phone locker in plain sight will make it much less likely anyone will attempt to tamper with it. Women using the site will feel safer if the space in front is open and unobstructed.

How much wall space is available? Your cell phone locker – whether a free-standing cell phone locker or a recessed mount cell phone locker – will only be as suitable for the amount of space you have available. If you need more and lack the space, additional cell phone storage lockers should be considered.

Who will be using the mobile phone locker? Employees or the general public? Office workers or clients? Everyone's needs and expectations are different and should be considered.

How many people will use the locker? Be generous in your estimate. You don't want anyone to be left out. You want to allow for growth in staff. You'll also want consider the length of time the items will be stored as this will be an important factor in the number of compartments you provide.

What type of configuration most effectively meets all of these needs? When you assemble all the information, your choices will narrow to the most appropriate. If you still need help, feel free to contact the experts at USA Building Supplies.
What will be most efficient?
What types of items will be stored in the locker? Compartments which are too small are a frustration. Compartments which are too big are a waste. USA Building Supplies provides a big selection of door sizes and depths. Consider the type of work being done in the location. What will the work require? Legal briefs, larger folders, important documents, tools or just cell phones?

How big is the space in front of the locker? Consider the number of people who will be walking past the cabinet. Consider what the space will be like at various times of the day. This will help you determine whether you want a wall-mounted unit (which protrudes into the space) or a recessed mount mobile phone locker (flushed with the wall).

Will stored items vary in size? All types of door sizes and depths are available. Once you determine your needs, just let the experts at USA Building Supplies know your requirements. We'll give you every effective and affordable option.

What types of storage lockers would meet your needs?
What security option is best?
How valuable will be the stored items?
Security is the real benefit. There must also be perceived security. Users have to be certain their valuables will be safely stored. The level of security needed will help you select the most appropriate locks and strength of the mobile phone storage locker.

What type of lock would suit your users? Cell phone security lockers come with doors which have either keyed locked or combination locks. Whatever you need for your cell phone locker cabinet can be supplied by USA Building Supplies.
Here are specific benefits from each type:
Keyed locks on mobile phone storage lockers are the most in demand. This type of employee cell phone locker can be master-keyed or accessed through a master door.

Combination locks for cell phone security lockers are available. They are perfect if the owner doesn't want to bother with keeping track of keys. Controlling keys can be almost a full-time job.
What color and finish are needed?
What finish and color are best for the office décor? Check with the architect and interior designer to confirm the décor. What color is the carpeting, the walls, the drapes? You'll want a finish for your cell phone security lockers which complements the setting.

What is the most convenient and simplest door identification system? USA Building Supplies offers cardholder door identification, engraving, and other more decorative engraving options like black filled engraving. Some types of identification systems are more attractive. Normally, your prime consideration will be making sure the labels are easy to read, regardless of their level on the cell phone storage locker. You'll also want a system which is easy to switch when changes are needed.
Do you need more than just storage?
Do you need a cell phone locker, laptop locker or a charging laptop cabinet? USA Building Supplies has them all. If your have the need, we have the cell phone security locker. Special design services are also readily available.
Do you have other required specifications which must be met?
(Government cell phone lockers, GSA-approved cell phone lockers, school cell phone lockers). USA Building Supplies has an excellent track record of effectively meeting even the most stringent requirements.
Once you have these answers, you are ready to order your cell phone cabinet with USA Building Supplies, the best cell phone lockers manufacturer!
Contact the cell phone storage locker experts at USA Office Supplies for the exact cell phone lockers you need to meet your requirements at an affordable cost.
Back To Building Supplies Menu