Cell Phone Lockers – Like Cell Phones – are Everywhere!
Cell Phone Lockers have a Simple Function and a Universal Appeal
Everybody has a cell phone. So everybody needs a place to put them!
C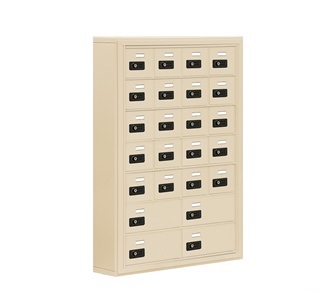 ell phone lockers have a simple function – temporary secure storage for items like cell phones, car keys, important documents, tablets, wallets, cameras, e-readers and other valuable items. Their simple storage capability has placed cell phone lockers in any number of different locations.
The cell phone locker provides a much-needed function in health clubs, government offices, schools, universities, military bases and all manner of other high security locations. These facilities need cell phone cabinets or electronic storage units to offer people a safe, convenient place to store valuables while protecting the privacy of many.
USA Building Supplies offers a Full Range of Options for Cell Phone Lockers
Surface mount or recessed mount cell phone locker options allow you to fit any office environment, functionally and stylishly, regardless of the décor or available space. Many different colors and hardware options are available to provide the perfect look for either new construction or remodeling.
When space is limited, recessed mount cell phone lockers preserve the greatest amount of working space while offering complete functionality. Cell phone lockers from USA Building Supplies are scratch-resistant and durable-indoors or outdoors.
Standard depths are available for either surface mount (6 ¼" depth) or recess mount (5 ¾" depth) cell phone lockers, making it much easier to install them in even a complex office design.
USA Building Supplies Provides Outstanding Customer Service
USA Building Supplies' representatives often assist customers for cell phone locker purchases. Their long and wide experience is extremely helpful for both new construction along with complex remodeling projects.
While these cell phone lockers can certainly stand on their own, there are many other related products from USA Building Supplies to go with cell phone lockers in virtually any environment.
Cell Phone Lockers, Pedestal Mailboxes and More for Versatile Building Solutions
Related building products include pedestal mailboxes and 4c horizontal mailboxes. Both are available in a wide range of configurations with customized door sizes. The corrosion resistant finish and aluminum construction are great for indoors or outdoors. Our variety of powder coat finishes prevents scratches and vandalism while providing a sophisticated and coordinated look to your building. Install perfectly matching storage units, commercial mailboxes, drop box units and more with our entire building product selection. USA Building Supplies will help you meet all your building specifications and requirements.
Since cell phone lockers – and all of our other storage units – are everywhere, we'll help you wherever you need them!
Contact your number one building supplier today for any inquiries on cell phone lockers and other commercial building products including pedestal mailboxes – all high-quality with the best value.

Back To Building Supplies Menu