Cell Phone Lockers & Storage Solutions for Government Buildings
More Courthouses Adding Cell Phone Lockers for Added Security
Every day it becomes more apparent that security is paramount issue for federal buildings throughout the country. Recently, USA Building Supplies has noticed a recent trend of more and more courthouses looking to purchase cell phone lockers. What are the reasons courthouse officials are finding necessary to add cell phone cabinets in their buildings? What additional issues is the cell phone ban causing security officials at courthouses?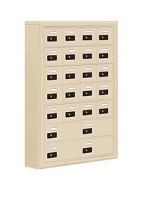 The initial concern courthouse officials had concerning cell phones was essentially the same issues TSA officials have at airports that unwanted visitors would use the cell phone in some way to create a significant security breach. However, after looking into the cell phone usage, security officials found that the cell phones were also threatening the integrity of the judicial process. Courthouse officials learned that people were taking photos of potential witnesses, judges, and attorneys. Additionally, some individuals were recording testimony, and texting testimony to future witnesses. Once this was learned by the courthouse security officials purchasing cell phone lockers became a high priority.
Courthouses that are now installing and using their cell phone cabinets are starting to experience typical logistical issues that come with instituting a new program. Should judges, attorneys, and other courthouse officials be allowed a waiver to exclude them from the cell phone ban? What is the policy for visitors who lose their cell phone locker keys when utilizing the cabinet? What do you do if someone forgets to retrieve their phone from the cell phone cabinet after exiting? As you can see, there will be bugs to work out for security officials concerning the cell phone storage cabinets, but one thing is for sure officials say that this policy is here to stay.
Contact the building supply experts today for additional product information on cell phone lockers or other commerical building supplies including restroom accessories and curbside mailboxes.
Back To Building Supplies Menu