Division 10 Products Designed for Durability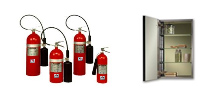 As your industry leading building supply company, we proudly carry an assortment of Division 10 products. This nationally used product line is constructed with the highest quality materials to ensure consumers are completely satisfied with every purchase. Our products are also offered in a variety of attractive finishes to best suit your building's specific style. Companies nationwide commonly utilize Division 10 products to conveniently assist in finalizing the construction of their new building facilities. As a leading and national distributor of an extensive line of building supply products, USA Building Supplies proudly carries Division 10 fire extinguishers and fire extinguisher cabinets. We offer a full line of medicine cabinets including locking medicine cabinets, multiple door medicine cabinets and single door medicine cabinets. Division 10 restroom accessories from USA Building Supplies are also available including mirrors, hand dryers, baby changing stations and much more. Be sure to check back often as USA Building Supplies is continuously adding to their product assortment. If you are looking for a specific product and are unable to find it, contact our customer service representatives for assistance. USA Building Supplies is your complete supply chain solution.
*USA Building Supplies continues to expand on our product lines daily. Check our website often or contact our customer service representatives if you are unable to find your product today. USA Building Supplies will have your products to purchase soon.
Shop our entire line of Division 10 products to complete your new construction or apartment building supply needs today.
Back To Building Supplies Menu