Industrial Floor Mats Make an Impression on your Employees & Visitors
Commercial Floor Matting for a Variety of Applications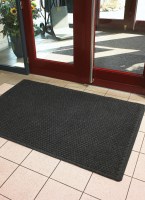 First impressions can provide a long lasting viewpoint for your workers and guests at your facility. Few products speak to the quality, care, and respect your organization believes in more than floor mats. Different types of mats say different things about organization in subtle ways that you have probably never have thought about.
Entrance Mats
Entrance mats for your business welcome your employees and visitors into your building and also provide a helping hand for your maintenance workers who keep your facility tidy. Some corporations and other entities will use the entrances to their building as opportunity to brand their logo, slogan, or company name with USA Building Supplies' logo mats. Logo floor mats speak to the pride the organization has for itself to both employees and guests as they are entering your building.
Anti-Fatigue and Specialty Mats Provide Maximum Safety and Comfort
Anti-fatigue mats provide relief for your employees and let your workers know that you care about them. In addition, anti-fatigue mats make your workers more productive because they are less fatigued thus more focused. Often anti-fatigue will also act as safety declaration when the mat has caution yellow borders. This probably the reason why many people call these floor mats safety mats too.
Specialty mats are floor mats that serve a particular purpose. Often, that purpose is to have mat suitable for the environment that it is in like weight room matting for gyms and health clubs. However, safety message mats are different type of specialty mat that helps promote safety in your building with common safety reminders. Safety message mats let your employees know that you have their best interests in mind and help make guest feel comfortable.
Floor matting is a simple product that few think about in terms of leaving a lasting impression on people. USA Building Supplies in Wisconsin carries a full line of matting products to make sure they have all of your needs covered. Whether you need an anti-fatigue mats for a welding environment or your pharmacy, or an entrance mat for your interior or exterior entry ways one call is all you will have to make and that is to USA Building Supplies.
Shop our entire line of commercial floor matting products for a personalized way to add safety, cleanliness and lasting impressions for your customers and employees.
Back To Building Supplies Menu