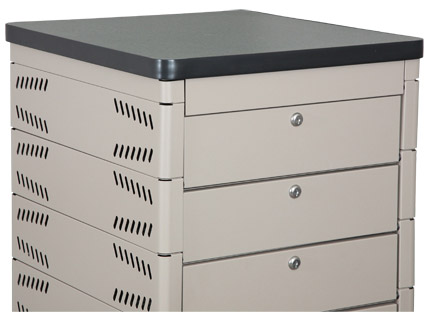 False
| Min Quantity | Max Quantity | Price |
| --- | --- | --- |
| 1 | 1 | $710.00 |
| 4 | 4 | $0.00 |
Features & Specifications
Laptop lockers are great for storing various small items including laptops, cell phones, tablets, cameras and more
Image shows locker with laminate top, however this type of top is an added option
Overall size of laptop locker: 20"W x 37 7/8"H x 22"D
Seven compartment laptop locker weighs 85 lbs. and when packaged for shipping weighs 105 lbs.
Laptop locker is made of 20 gauge steel
Tek Stak laptop locker has front fold down doors to provide quick access to compartments
Base raises unit 4" off the floor
Bay inside dimensions: 19 3/4"W x 4"H x 20 7/8"D
Air flow is constant with our vented sides which keeps your electronic devices cool
Compartment doors can be equipped with keyed locks, hasps (for customer supplied locks), or 4 digit electronic locks
Laptop lockers can be ordered in variety of powder coated finishes
Ships assembled via motor freight due to size, fragility, and oversize
Allow for 3-4 weeks lead-time for laptop lockers (production times may extend during peak periods)
 Optional Features
 Lock Type
(STANDARD) Keyed locks provide the end user quick and easy access to their electronic devices. Keyed locks are a single point lock. 
(NO ADDED CHARGE) Hasps are for clients who desire to provide their own padlocks or have end users provide the padlocks
(+$875.00) Electronic locks provide keyless entry into compartments and the ability to reset access codes. Master code is provided for entry into any of the locker doors free of charge.
 Drawer Base Option
(+$145.00) Drawer base which measures 20"W x 7 3/4"H x 22"D allows for storage of incidental items
 Master Key Option for Keyed Locks
(+$20.00) Master key for keyed locks provide entry into any of the locker door compartments. One master key will suffice if customer desires for multiple locker module purchases. Master key can be duplicated in the field. Master key is not necessary for electronic lock laptop lockers.
 Laminate Top Option
(+$80.00) Laminate Top with dimensions of 21 5/8"W x 1 1/8"H x 22"D and is available in various finishes, provides the end user a solid work surface on top of each laptop locker bank
Laptop Locker Finish 
(STANDARD) Finishes for laptop lockers are priced equally. The fifteen solvent free electrostatic powder coat paints are approved by the EPA. Buyers can obtain color chips upon request at no cost. 
Contact the building supply specialists at USA Building Supplies for information on our full line of laptop storage solutions