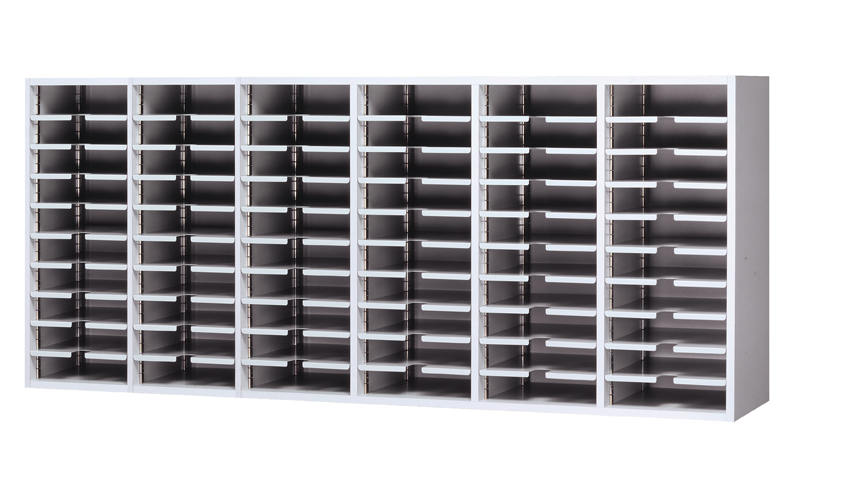 False
| Min Quantity | Max Quantity | Price |
| --- | --- | --- |
| 1 | 1 | $1,370.00 |
| 4 | 4 | $0.00 |
Wall Hung Mail Sorters Expand Floor Space Efficiency
As companies expand their operation the need for organization and additional floor space frequently becomes a necessity. USA Building Supplies' wall mounted mail sorters are a great product to address these concerns. The wall hung mail organizers are offered in a variety sizes and pocket capacities to match most organization's requirements. Buyers are assured of a sturdy installation of the mail sorter due to the unit's steel back coupled with factory provided steel brackets. Wall hung mail sorters feature adjustable shelves which shoppers love because it provides them the ability to adjust pockets sizes daily if the volume for a particular user increases. Surface mounted mail sorters can be purchase in an assortment of laminate finishes for the sorter's shell and an array of painted finishes for the organizer's shelves. Color chips can be furnished upon request. 
Features & Specifications
Legal or letter size wall hung mail sorters have 54 adjustable shelves with 60 pocket openings
Wall hung mail organizers are available with closed sorter back only
Mail sorter module size: 31 1/2"H x 74 3/4"W x 12 1/4"D (letter size) or 16 1/4" (legal size)
Wall hung document sorter shell and vertical dividers with exception of steel sorter back to support wall hanging is constructed out of 3/4" 45-50 lb. substrate (particle board) with thermally fused finish and factory matching 3/8" PVC on edges
Mail sorter shelves have a 90 degree 1/2" lip label area with center cut out for retrieving documents and other materials from pocket openings
Legal and letter mail sorter modules have one shelf (adjustable in 1" increments) for every three inches providing 2 1/2" clearance between shelves
Mail sorter back is steel which provides a sturdy installation
Wall hung mail sorter back is painted in the same finish as the buyer shelf finish selection
Mailroom sorter edge 3/8" PVC trim will be in the color referenced in color and trim matching chart located in supporting documents area above
Wall hung mail sorters include steel brackets which must be field mounted at wall studs
Internal mail organizer housing hardware which holds shelves in position referred to as uprights are painted black
Depth can be bought in letter size (12 1/4") or legal size (16 1/4") which allows a net opening for letter mail sorters of 11 1/4"W x 11 1/4"D or legal sorters of 11 1/4"W x 15 1/4"
Custom or color matched interior or exterior mail sorter shell finishes (typically an additional lead-time) are offered for an added cost
Allow 3 to 4 weeks for lead-time (shipment times can fluctuate during peak production times)
Optional Features
Mail Sorter Overall Depth
(STANDARD) 12 1/4" (Letter size) mail sorter depth stores documents that are 8 ½"W x 11" and is typically sufficient storage for most applications.
(+$130.00) 16 1/4 (Legal size) sorter depth is for buyers who require added storage space for forms, catalogs, documents, or other types of documents.
Finishes for Shelves
(STANDARD) Finishes for wall hung mail sorter shelves are split up into three different categories which are standard, non-standard, and premium colors. Standard painted finishes can be bought in your choice of eight different finish colors. Please be advised that wall hung literature sorters that the back of the organizer shell will be painted the same color as the buyer chosen shelf finish. Standard finishes are the most inexpensive priced finish for mail sorter shelves and ship from the factory in a shorter time period than non-standard or premium finishes.
(+$75.00) Non-standard finishes are offered in nine color options. Usually, non-standard finishes have an extra charge for the buyer and take an additional 1-2 weeks to ship from the factory.
(+$150.00) Premium finishes are available at an extra cost and often require an additional two weeks for production. The premium painted finishes offered for wall hung mailroom sorter shelves are pure soft white, pure white and ivory color.
Finishes for Mail Sorter Shell
(STANDARD) The wall hung mail sorter shell (excluding steel sorter back) is finished in a long-lasting laminate which is attractive too. Custom color matching is available if inquired about, however it an additional charge will apply and an extended lead-time. Please take note that wall hung mail sorters have a steel shell back and are finished the same as the mail sorter's shelves.
Label Holder Option
(+$60.00) Label holders allow a manager to mark each pocket opening. If this option is ordered you will be given the amount of transparent plastic label holders with double sided tape and cardboard inserts for a custom identification of each pocket opening.