Best Commercial Building Accessories Online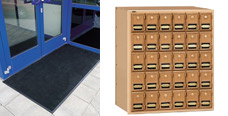 Keep your office looking its best and your employees happy full line of building and apartment supplies from USA Building Supplies. Whether you're looking for site amenities, floor mats or a commercial mailbox, USA Building Supplies has it all. Maintain your building's upkeep aesthetically all while meeting standard government requirements. Division 10 specialties from USA Building Supplies include a full line of restroom accessories and bathroom stalls to sanitary napkin disposal units accustomed to fit your specific buildwith the ing needs. Whether you're involved in a new construction site or own an apartment building and need a cluster box mailbox, USA Building Supplies it all!
Contact the Best Commercial Building Supplier for horizontal mailboxes, postal drop boxes, restroom accessories, and Division 10 Products from Your Only Building Supply Source 1.855-373-5381.
*USA Building Supplies continues to expand on our product lines daily. Check our website often or contact our customer service representatives if you are unable to find your product today. USA Building Supplies will have your product to purchase soon.