Pedestal Mailbox Supplier Delivering the News!
Building Supplies New Website Continues to Grow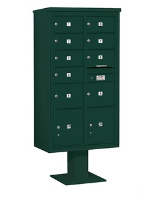 Keeping up with the latest news in the mail and building supply industry is a main focus for USA Building Supplies. We continue to stay abreast postal product regulations to help make sure every building stays within the government's parameters. With our new website we plan to take a new direction! USA Building Supplies strives to offer the most diverse product line, driving us as the nation's leading resource for building supplies. We have BIG plans for the near future! USA Building Supplies is continuing the expansion of our product line throughout 2014. Storage and shelving product lines will be coming soon along with a full line of material handling products and mailroom products. A warehouse product line will also be launched in 2014. Whether your buidling needs a pedestal mailbox or a cluster box unit, USA Building Supplies carries the largest selection of USPS Approved mailboxes. Be sure to check back often as our new website continues to flourish with new products, new articles and new specials!
Request a product quote for custom configured USPS Approved mailboxes, restroom accessories today.