Welcome to Your Number One Online Building Supply Company
Warehouse Supplies, Mailboxes and Building Supplies are Sweeping the Nation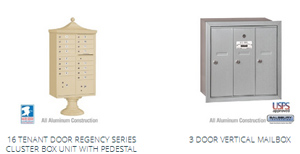 USA Building Supplies is proud to introduce our new website as your number one, most convenient building supply source. We have a huge selection of building supplies to best suit your warehouse, apartment building or office building requirements. Take some time to browse through our website and experience first-hand everything we have to offer. The majority of our full line of commercial mailboxes meets USPS regulations and comes equipped with a variety of personalizing options. From engraving features to specific metal finishes, our mailboxes, washroom accessories and floor mats will perfectly match your building's style. Our product selection includes large 4C horizontal mailboxes, 4C pedestal mailboxes, cell phone lockers and so much more.
Whether you own an apartment building, residential home or an office building, USA Building Supplies allows business owners and construction companies to complete their warehouse supply needs all in one central shopping location. Eliminate the hassle of multiple purchase orders from various warehouse suppliers and let USA Building Supplies be you're ONLY building supply source. We can guarantee we have every product you need to complete your building needs. If you're unable to locate a specific product, our accommodating customer service representatives are available during regular business hours to walk you through the process and help you find exactly what you're looking for.
Shop our entire selection of commercial mailboxes, lockable storage solutions and Division 10 Products to complete your warehouse or building supply needs today.
Back To Building Supplies Menu